ALUMINUM CERTIFIED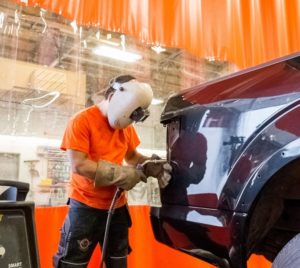 As part of our CERTIFICATIONS by various manufacturers, we are required to purchase state of the art tools specifically for aluminum repair. Mercedes-Benz S, CL and SL models, the BMW 5- and 6-series, Chevy, Corvette, Jaguar XJ, Range Rover, Porsche Panamera, 991, 981, and 918, Audi, TT, A8 and R8 Acura NSX's and Ferrari and Maserati, Lamborghini, Bentley, Rolls Royce, Aston Martin, Lotus and Tesla all have aluminum that requires some special aluminum welding, weld-bonding, or rivet-bonding (even some Hondas and Fords too). With the increase concern for cars to perform more efficiently, manufacturers have utilized more aluminum than ever before because of its light weight.
Who is equipped to repair an exotic metal vehicle?
The costly tools necessary in order to do so are specialized and require segregated conditions. Benders Body Shop has an isolated aluminum repairs work station to accommodate all these repairs without delay. Our technicians attend factory training and purchase all necessary specialty tools. Our certified Aluminum Master Technicians are qualified to repair those cars with the same quality and precision as when they were first built.
Aluminum IS MUCH more expensive to work on than steel and more difficult. Here are a few examples:
The MIG welding requires precision in the shielding gas mixture and travel speed. Tesla certified shops (also Mercedes and Audi) are required the shop to purchase a Fronius aluminum MIG welder because that's what they use in the factory.
Aluminum is prone to galvanic corrosion so there must not be ANY steel that comes near the repairs (dust, debris, etc…)
The tech/shop must purchase a duplicate set of tool to be used exclusively with aluminum panels (to prevent galvanic corrosion).
Aluminum dust is explosive. So the shop must be equipped with extra safety equipment like the explosion proof vacuum cleaner.
Aluminum conducts heat much better than steel, which makes the process of heating for repairs very different. Also, aluminum does not turn red before reaching its melting or annealing points, so an untrained tech can easily turn a simple dent into a nightmare.